Welcome to the Irish MPS Society website
Dates for Your Diary 2014
Remembrance Day in Belvedere House & Gardens, Mullingar, Co Westmeath
Saturday, 30th August 2014
""""
All Ireland MPS and Fabry Conference (click for more details)
12 -14 September 2014 Hilton Templepatrick
""""
13th International Symposium on MPS and Related Diseases (Click for more details)
13 – 17, August 2014, Costa do Sauipe, Bahia State, Brazil.
   """"
Christmas Party in The Glenroyal Hotel, Maynooth, Co Kildare
Saturday, 29th November 2014
 """"
Cinderella Panto, Lime Tree Theatre
Mary Immaculate College, Limerick
December 27th 2014 – January 4th 2015  
(See News & Events for further information)
,,,,,,,,,
More details for each of these upcoming events to follow in due course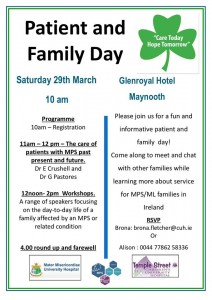 You should all receive an invite to our Patient and Family Day on Saturday 29th March 2014 shortly. RSVP as soon as you get them as we will need to know how many we will have to cater for.
Irish MPS Families – Important date for your diary
MPS Patient Day will take place on March 29th 2014 
in the Glenroyal Hotel, Maynooth, Co Kildare.
We will have several speakers.
Doctor Greg Pastores the new Adult Metabolic Doctor in the Mater Hospital will be speaking along with invited guest speakers.
It will be a very informative day for all MPS/ML Patients, Children & Adults.
We hope to have childcare facilities in place too.
We will post more information on speakers, Topics, etc. soon.
Keep March 29th 2014 free to attend in your diary.
Look forward to seeing as many families as possible.
MPS AWARENESS DAY MAY 15th 2013 VIDEO
The Irish MPS Society is a voluntary support group which represents and supports children and adults suffering from Mucopolysaccharide and related diseases, their families, carers and professionals.
It is a registered charity, managed by the members themselves, and entirely supported by voluntary donations and fundraising.
The aims of the Irish MPS Society are as follows:
to act as a support network for those affected by MPS and related diseases
to bring about more public awareness of MPS and related diseases
to promote and support research into MPS and related diseases